First Responder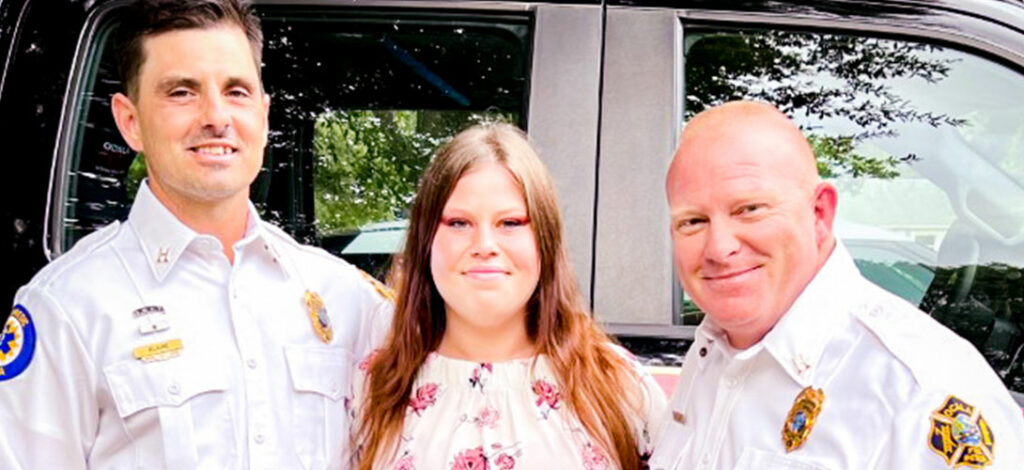 First Responders play a vital role in curbing the opioid epidemic. Often, they are first on the scene of an overdose and help to provide lifesaving medications (naloxone) to reverse the overdose. So often in the sub-culture of addiction, first responders are not seen as friends but enemies by the addict. Very often their service and work go without appreciation or seeing a happy ending. When first responders show up, that usually means that the police are not too far behind. In the words of one of our residents describing her feelings about first responders "I just never connected them to God."
At His House we know different. God is very much connected to every detail of our lives and the people that He sends to help us along the way.
Last Friday night His House staff and other residents had the pleasure of meeting two men that our resident, Madison, attributes to saving her life. Meet Ocala Fire Rescue Captains – Captain Blaire and Captain Hickman.
Maddie first met Captain Blaire while she was in the hospital under a Marchman Act due to abusing heroin and fentanyl. She stated that she remembered feeling so isolated and alone during that time because not even family members were allowed to come into the hospital to see her. Maddie has been fighting for her life with this addiction for many years and in December of 2021 she overdosed. That is where Captain Blaire came back into Maddie's story. Through the efforts of highly trained first responders Maddie lived and is now receiving recovery help at His House for Her.
As part of her HHFH Induction process, Maddie wrote and presented her gratitude letter to Captain Blaire after dinner. One of the things that Captain Blaire mentioned during dinner stayed with me. He said, "that as first responders they respond to the scene in crisis mode and never really get to see if their efforts provided any relief, or a happy ending." With new courage in her voice, Maddie read her gratitude letter to Captain Blaire and thanked him for his service and for saving her life. It was a sacred space as both men listened intently to her heart.
There is a certain strength found in those who serve others with such passion and fervency even amid continuous turmoil- yet they continue to serve and help those who desperately need it, like Maddie. I believe that kind of strength can only come from God for His service.
In 2020, the Ocala Police Department registered 67 overdose cases, 11 deaths and 28 Narcan saves by officers, we are grateful that Maddie was not number 12. Maddie is now healing from her addictions and her traumas and learning to live life with new purpose. It takes time but she understands that it is a process, and she must trust that process and the people that God has sent to help- just like Captain Blaire- she is proof- of service to others done God's way is a job well done and a happy ending.