We Experienced The Light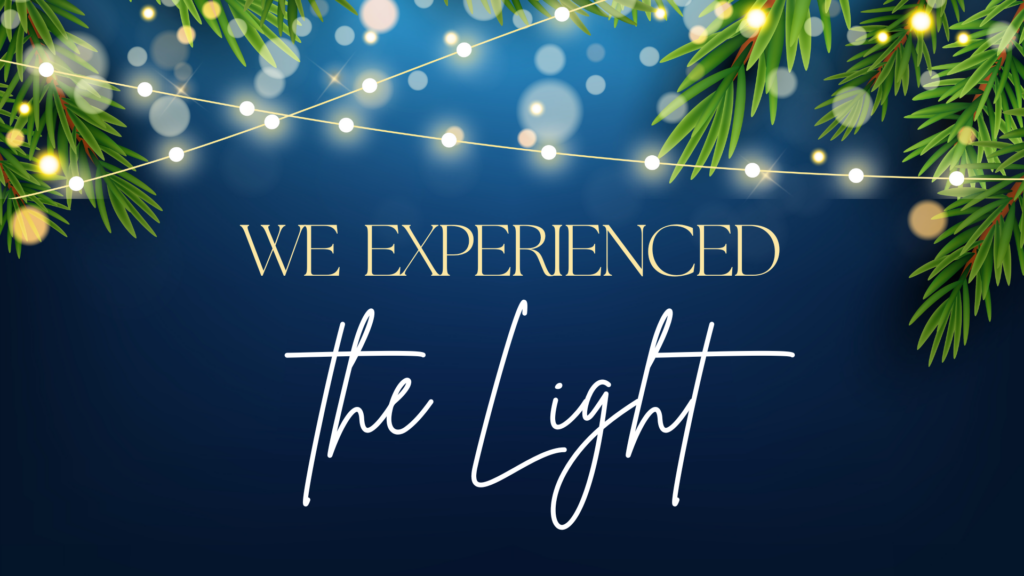 November 29th we gathered, men and women to worship together.  We came to the Light.  The Lord met us there; He is faithful that way.
The invitation was made to enter the Christmas season lighter, to lay the weight of something very heavy at the altar.  Maybe it was the weight of a word that had been spoken to us.  Maybe it was the weight of something that had been done to us.  Maybe it was the weight of something that we ourselves had spoken or done.
It was a beautiful thing to come and sing of our Savior's coming.  But it would be even more beautiful and brave to take a specific action that would free us from some of the heaviness in our hearts and souls.  Isn't that one of the reasons Jesus came?  To do for us, what we cannot do for ourselves.
I am always reminding our girls that God doesn't always stop things from happening on the front end, but He can redeem and restore anything on the back end.  But He's a gentleman, and He needs our permission to touch what ails us.  He needs us to give Him access to specific pain so that He can get the truthful messages of the cross directly to it like a salve to a wound.  But what truthful messages?
The truth of how lost we are without Him.  The truth of how possible it is for us to do whatever we feel serves us at any given time. The truth that healing is possible.  The truth about His love and mercy.  The truth of His grace and forgiveness.  But it doesn't stop there.
It's important to remember the truth of the fact that He, too, heard what was said to us, or what we said.  He, too, saw what was done to us or what we did.  He knows.
And He wanted to touch that pain.  And He wanted to heal that pain.  And He wanted to restore the damage that was done.  He wanted to bind up and heal some of the broken pieces in the collection of hearts that had gathered before Him, and He did.
Jesus proclaimed liberty to emotional and spiritual captives.  He proclaimed the opening of prisons.  He wanted to break down the walls that we allowed others to build around us as well as the walls we had built around ourselves.  Would we let Him near one of our heartaches?  Would we surrender that thing that was replaying in our minds?  Would we bring these to the light of all He is?
We did.
Sometimes you need to do something in a way that makes something spiritual be more easily perceived by your senses and more realized by your mind.  Isn't that what worship does?  Worship makes the presence of the Lord, something that is all around us, more perceivable and more realized.
And so TOGETHER, we remembered that Jesus is not bound by time nor space.  That He has always been with us.  That He is present everywhere at the same time.  That His eyes are in every place, keeping watch on the evil and the good. (Proverbs 15:3)  That everything is immediately in His presence, but we have not always been aware of Him.
We asked Him to come to us, in that wounded and painful place and love us through it.  We asked Him to comfort us according to His will.  And we waited.  We waited for Him to give us a picture, a word, or a whisper.  Any sense that He was touching our pain.  And He did.
We thanked Him for coming into that wounded, painful place that we had covered with anger, fear, pride, and sadness.  That place we had protected from ever being hurt again.
We forgave others.
We asked Him to enable us to release forgiveness to those who hurt us.  We thanked Him because when we are willing to release forgiveness, He strengthens us to do it.
We released those who had harmed us to Jesus.  We shifted the heavy burden of every "if only they would" off our shoulders and onto His.  He could help us with what "they" could not.  We thought about how He has forgiven us for so much.  We realized that forgiving others is actually a gift that we give ourselves.  We whispered our forgiveness.
We forgave ourselves.
For how we have felt or how we have acted.  For the things we said or didn't say.  For the things we did or didn't do.  We were gentle with ourselves because we realized we didn't know what to feel or how to act.  We didn't know what to say or what to do.  We didn't know how to help ourselves.  But we remembered that Jesus is our help and our deliverer. (Psalm 40:17)  We whispered our forgiveness.
We forgave Him.
Finally, we checked for any secret blame we'd been holding against the Lord for allowing that thing to happen.
We searched ourselves to see if we'd misplaced the responsibility for someone else's free will onto Him.  Did we need to forgive Him?
This was about healing our image of God and getting ourselves out from under any faulty perception of Him.  Can someone so filled with perfect love really wrong us?  We began to trust that He would repurpose our pain.  We began to trust that He doesn't waste a single thing.  We began to trust that He would redeem it.  And we began to believe that in time both He and we would use that pain to help someone like us heal.  We whispered our forgiveness.
Then we finished together.
By faith, we received His peace, His grace, His mercy, and His love that was given to us for our healing.
We asked Holy Spirit to become rooted in these healed places of our hearts and souls and to grow us into His fullness that we would never be the same.
Then we did something physical to make this time that was intensely spiritual be more easily perceived by our senses and more realized by our minds.  We wrote about the pain the Lord had touched and we laid it at the altar to be shared here.
The Lord had been talking to me about His Light, but also about the woman at the well.  The Amplified bible says specifically that numerous Samaritans believed in and trusted in Jesus because of what the woman at the well came into town and SAID. (John 4:39)
As you read the following testimonies of pains and burdens that were relieved, may you be filled with the hope that our God is not a respecter of persons and what He did for others He can do for you.  Bring the weight of every dark burden you bear into the marvelous light of Christ and be healed.
Someone came in withdrawal from drugs and alcohol and left symptom free.
Someone experienced forgiveness in a way they have never experienced it before. They experienced joy and the presence of God tangibly.
The Lord touched anger and resentment.
The Lord touched the guilt and shame of a traumatic past and the lie that someone would experience nothing different than that was lifted.
Someone found peace.
Someone was lifted from loathing and self-pity from alcohol addiction.
Someone felt His love showering on them and that love cast out all fear. They realized extending forgiveness was a gift to themselves.
The Lord touched the pain and burden of someone's negative response to all the sexual abuse they had endured.
Someone experienced forgiveness for abortion(s).
Someone felt truly loved for the first time in their life.
Someone felt the Lord's hand on them taking away pain and forgiving them. They in turn forgave others and themselves.  They forgave themselves for years of pain from addiction.
Someone laid selfishness on the altar. They heard, "What have you done for my children?"
Someone admitted they'd done wrong and asked for forgiveness.
God took away PTSD resulting from childhood abuse; He healed someone like it never happened. They believe they are whole and healthy now.
The Lord touched physical pain.
Someone was convicted of not being the man nor the husband God has called them to be.
Someone forgave adultery.
Someone told the Lord they were sorry for turning their face away from Him.
Someone forgave their mother for the way they'd been treated. They want to learn how not to believe the bad things that were spoken to them.
A marriage was renewed after 50 years.
Someone was taken back to age 7 or 8 and healed from being abandoned by their mother. The Lord told them it was never their fault.